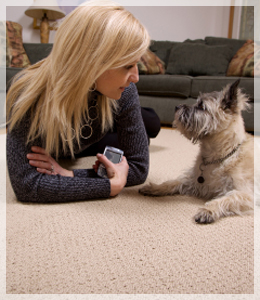 We know that you want to keep your carpets clean but may also have concerns about the harmful chemicals used by some carpet and flooring cleaning companies. That is why at A1 Carpet Care, we offer green cleaning options so you don't have to choose between cleaning your floors and the health and safety of those living there. Our Green Cleaning is a cleaning option that utilizes fewer chemicals to protect your family and their health.
What is Green Cleaning?
Green Cleaning is compromised of environmentally responsible management, care maintenance and renovation procedures. It is achieved by employing cleaning products, formulas, equipment procedures, or systems intended to minimize any harmful environmental impact and maximize the sustainability of our built environment; such environment includes human health, the air we breathe, the water we use, the land on earth.
A1 Carpet Care utilizes Vortex Cleaning Systems, a complete line of carpet cleaning products that are truly better for the indoor and outdoor environment.
Our products are designed to meet Green Cleaning standards. Our line of green pre-conditioners will also accomplish the most important task of all – cleaning soiled Floors and Textiles.
All Vortex Cleaning Systems™ use rapidly biodegradable, renewable surfactants and contain no solvents of any kind. They contain no known carcinogens, are non-toxic and are ideal for cleaning in homes with small children or pets. There are no chemical sensitivities because they contain no added fragrances or dyes. These products are all phosphate-free and VOC compliant.
Schedule Your Cleaning Today
Don't hesitate - call 800-442-5326 or complete our contact form to schedule your Green Cleaning today.
The A1 Carpet Care Guarantee
We know we make mistakes from time to time. We're only human. But the measure of a service company is not perfection, but rather how well it handles its mistakes. At A1 Carpet Care we clean to IICRC standards and we are sincerely committed to your total satisfaction... Your satisfaction is guaranteed on every job.