Maintain Your Image. Protect Your Investment
Facilities spend millions of dollars on carpet, upholstery, leather, and Oriental and area rugs as part of their overall image. Poor maintenance can adversely affect that professional image, waste thousands of dollars in misdirected cleaning costs, reduce product performance, and accelerate the need for replacement.
At A1 Carpet Care, we understand the need to not only maintain a healthy indoor environment but also to extend the life of your expensive carpet, rug, fabric, and leather investments. Many offices, retail establishments, and other commercial areas count on us to provide solutions to their maintenance needs.
Why Choose Us?
For more than 40 years, A1 Carpet Care has maintained an aggressive research and development program. We understand how carpets and fabrics wear and stain and we know there are many different types of fibers and textiles in the commercial environment.
We also know that cleaning these fabrics requires state-of-the-art equipment designed to use the lowest possible amount of moisture. With typical dry times of one to two hours, your business can continue running with little or no disruption. Our carefully selected and screened, trustworthy, highly-trained professional technicians at A1 Carpet Care provide the most advanced carpet and upholstery cleaning methods available for your commercial carpets, rugs, fabrics, and leather.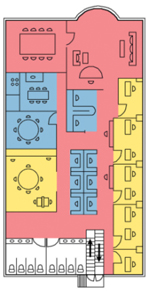 Scheduled Maintenance
Working with you, A1 Carpet Care will analyze your facility and customize a program that makes your carpet, rugs, upholstery, and leather look cleaner, last longer, and stay healthier. Then, our professionals will deliver these services at your convenience.
Whether your facility requires spot cleaning, carpet cleaning, or fabric or leather care, our revolutionary technologies remove more soil, spots, and stains than any other system.
The A1 Carpet Care Guarantee